During your holidays in the Seychelles, there will be a lot of local landmarks and monuments to visit. Here we will present some of the national monuments that you will be able to see during your holidays in the Seychelles.
Liberation Monument
The Liberation Monument or Zonm Lib is situated on June Avenue in the town of Victoria, in Mahé.  It is a metal statue that represents a man lifting up his arms and breaking his chains. It was inaugurated in 1978 to commemorate freedom from colonial rule.  Every 5th of June, the Seychellois decorate the statue with flowers.
The Victoria Clock tower
The Victoria Clock Tower, also known as Lorloz in the local language can be found in the centre of the capital. It was erected more than a hundred years ago to commemorate the death of Queen Victoria. Although the exterior of the clock tower has not changed in a century, its mechanism was replaced in 1999 by a quartz mechanism.
 Sainte Anne Marine National Park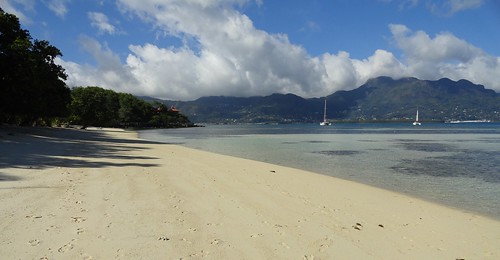 The Sainte Anne Marine National Park is at about 5 kilometers or 20 minutes by boat from the Island of Mahé. It is made up of six islands, Sainte Anne Island, Cerf Island, Ile Cachée, Round Island, Long Island and Moyenne Island. It is one of the most prized touristic locations of the Seychelles for scuba diving.
Veuve Reserve
The Veuve Reserve can be found in La Digue. It is a nature reserve comprised mainly of thick jungle. It was named after the Paradise Flycatchers which the locals call Veuve.  Other animals that can also be found there are giant sea turtles and swiftlets.
The Silhouette national park
Silhouette Island is the third biggest island of the Seychelles. 93% of its surface area is protected. It is also known for its mountains: Mont Dauhan (740m) , le Mont-Pot-à-Eau (621 m), Gratte-Fesse (515 m), le Mont Corgat (502 m), le Mont Cocos Marrons (500 m). Several endangered species can be found there, such as the Seychelles sheath-tailed bat, the Seychelles giant tortoise, Schefflera procumbens, among others. There is a legend that the famous corsair Jean-François Hodoul buried his treasure there.
The Victoria Botanical Gardens
The Seychelles Botanical Gardens can be found in Mahé and were established in 1901. There, you can find fruit trees, timber trees, spices, palms and ornamental trees as well as giant turtles. Various personalities have also planted trees there, such as The duke of Edinburg and Geoge Harrison of the Beatles.
The Praslin Museum
The Praslin Museum is a private-owned museum that can be found in the island of Praslin. Its main purpose is to exhibit Seychellois tradition and culture in their purest forms. There, you will find: a traditional kitchen, where you will be able to enjoy traditional Seychellois cuisine, traditional musical instruments, domesticated fruitbats that you will be able to feed, traditional games for children, vanilla, patchouli and citronelle plantations, endemic and medicinal plants, tortoises, blue pigeons etc…