Built on a hill in Port Louis, La Citadelle overlooks the Mauritian capital for nearly two centuries. This fort is the last representative of the four main strongholds built by the English after their arrival on the island.
Fort Adelaide, Fort George, Fort William, Fort Victoria … Of these four fortresses built by the British in the 19th century, only Fort Adelaide resisted the French invasion. The construction of military buildings was indeed one of the first concerns of the English after the capture of the island in 1810.
History
Having taken possession of Mauritius without any difficulty, His Majesty's authorities considered that strengthening the defenses was an absolute necessity. In addition to the four forts mentioned above, many small buildings and batteries were erected along the coast of Mauritius, like Martello towers. The most important piece of the English defense system remained the Fort Adelaide, which protected the most important port of the country, but also the economic and administrative capital that had become Port-Louis.
La Citadelle
Nicknamed La Citadelle, Fort Adelaide is located on top of a hill that the French called Little Mountain, 74 meters above sea level. It was already, before the construction of the fort, a place that loved many frequent the settlers to picnic or admire the view. It took six years of exhausting labor to several hundred Indian contractors to complete the construction of Fort Adelaide from 1834 to 1840.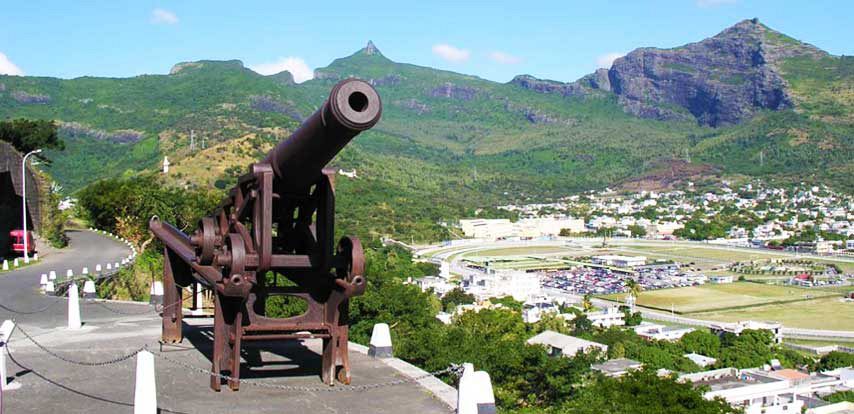 The view from the ramparts of La Citadelle encompasses on all sides, a large part of Port Louis, offering a splendid and clear view of the sea. The most powerful guns used by the English at the beginning of the colonization could reach a range of about two kilometers and were of a formidable precision for the time. The fort could accommodate 200 soldiers and their officers. It contained enough supplies and ammunition to hold a three-month siege, which never happened.
An amazing view of the capital city
Today, La Citadelle is still visited by Mauritians, who come to admire the view in family. The building was renovated in 2005 by a French museologist, Claude Faulque. The architecture is typical of the English military buildings of that time, with the officers 'quarters, the soldiers' quarters, the main courtyard, the powder magazine … The huge cut stones are made of basalt blocks.
La Citadelle is an essential stop for many tourists visiting the capital. The 360-degree view of the capital, from the Caudan to the city center, passing through the outskirts, allows you to admire the city's isolation in the mountain range that surrounds it.