Café LUX *
Located in the heart of the Caudan Waterfront, Café LUX * is a trendy place where you can have a coffee break with friends, a quick lunch before a shopping trip or enjoy the WiFi connection.
Café LUX * is also entering the Mauritian market with three unpublished coffees in Mauritius, namely the cold-brewed coffee, very trendy at the moment, the filter Café or the 'Nitro Cold Brew'.
Modern and comfortable, the Café LUX * is equipped with WiFi for those who want to combine work and coffee. It is the increasing demand from its customers for a high quality coffee that has motivated the LUX * hotel group to create the product Café LUX *. To do this, renowned organic coffee beans from three blends of Arabica coffees from Brazil (45%), Ethiopia (10%) and Guatemala (45%) are imported. This selection, cultivated and marketed ethically and Fairtrade certified, is the basis of the different coffee varieties produced by LUX *. Island Blend is characterized by its exotic flavor and the subtle aroma of freshly roasted coffee.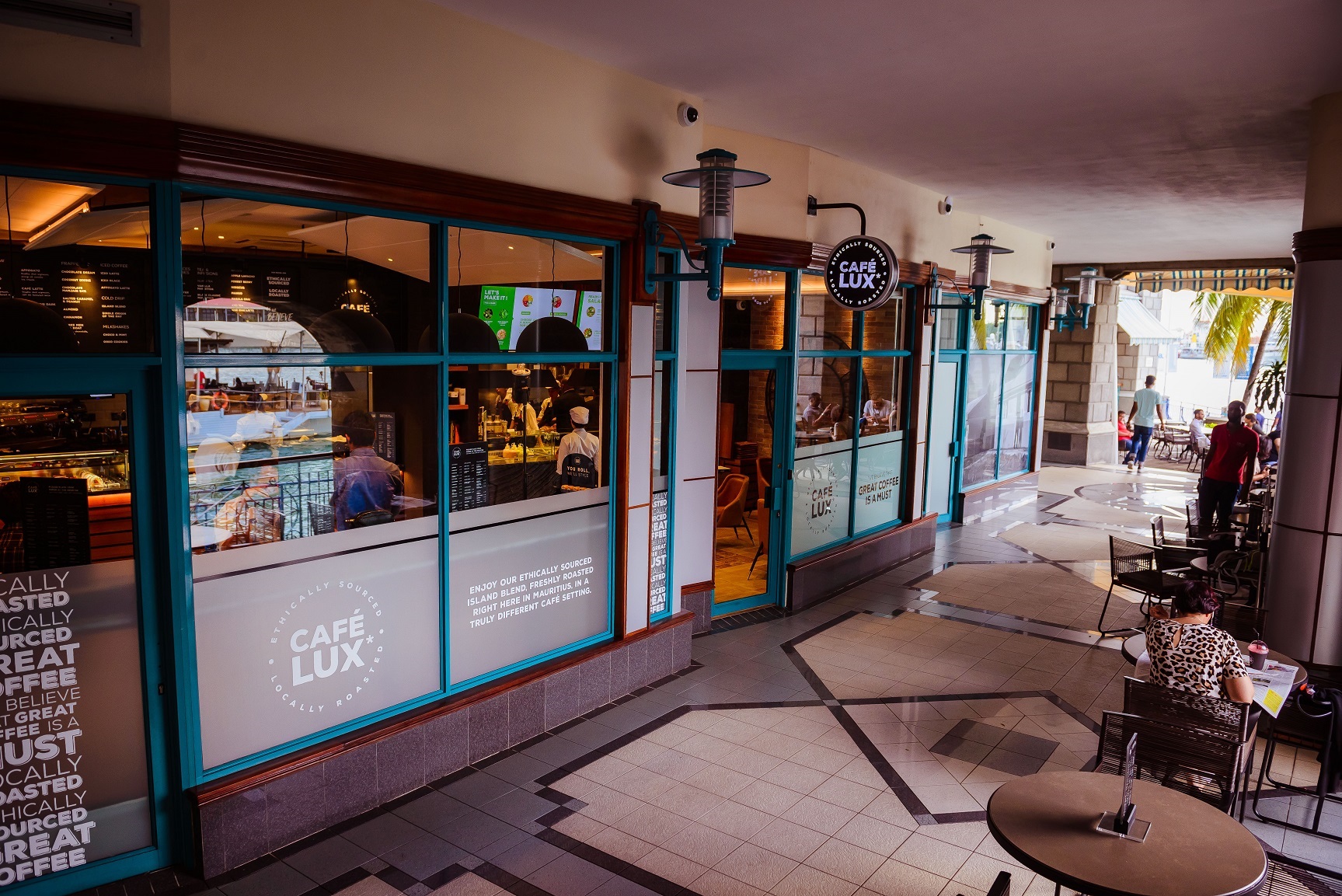 The Café LUX * concept was set up by Carl Wessel and Judd Francis, the founders of the famous Coffeeworks roaster in Cape Town, South Africa. Wayne Oberholzer, Barista Expert of the team of Deluxe Coffeeworks and South Africa Barista Champion 2012, who works in tandem with the team of LUX * for training baristas and roasters, says: 'A good coffee must be provided with strength and the fruity side of the Island Blend contributes to its popularity among coffee lovers. It is a rounded coffee because the aromas are well balanced. '
After roasting at LUX * Belle Mare, the product is then delivered to the other establishments in the group.
The LUX * Café in Trianon is open every day from 7.30 am until late in evening during weekdays and until 5.00 pm on Saturdays and Sundays.
Astor Café
Hidden in one of the alleys of the capital, just next to the KFC of the Cathedral one square in Port-Louis, the Astor café is a place offering unique flavors.
Astor Café is the perfect place for a convivial meal between colleagues or friends, in a warm and friendly atmosphere that you will not regret …

Their specialty: traditional Italian dough
Enjoy traditional Italian cuisine in the elegant ambience of our coffee shop, located on the 1st floor of the Astor Court Building, Block B.
All their pizzas are prepared on site and can be fully customized.
Astor Café also offers a wide range of vegetarian pizzas with a variety of carefully chosen vegetables .
Artisan Coffee
The first Artisan Coffee, opened by Body & Soul stores in December 2016, is located at Sir William Newton Street in Port Louis. First named Truth Coffee – in reference to South African craft coffee served in this cool little spot- the chain has for some months taken the name of Artisan Coffee (powered by Truth), and is located at the Harbor Front in Port Louis, Cascavelle Shopping Village and Grand Bay La Croisette. The next one will open very soon in Grand Bay Coeur de Ville Shopping Mall.

The card is sober, minimalist and goes straight to the point. There are hit coffees and a dozen other hot and cold drinks at very reasonable prices. Count in the Rs 100. I quickly opt for a Vanilla Latte before my eyes stop on the showcase next door, where are exposed the sweet and savory specialties of the house: muffins, macaroons, donuts, brownies, croissants and pâtés. There is only the essential. Some might find that it's not enough, but I think that, suddenly, I can try anything. My head yells "control yourself! But my gargoyle stomach pushes me to choose a choco brownie covered with icing sugar. We'll go back for self-control!
Café de la Presse
A coffee buzz in Port Louis, rue La Chaussée. People are hurrying there. For a coffee with friends, for a lunch with colleagues or to retreat time to leaf through his newspaper, the Café de la Presse hits the mark.
If you rely on the entrance stand, you will be far from suspecting what is hidden at the top, but past the stairs, you will be immersed in an atmosphere that is both cozy, friendly and urban. The owners paid attention to every detail. A vintage telephone, exposed pipes, an atypical fan, spotlights and lights in industrial style and a wall decorated by wise quotes.

On the menu (tested and approved): wasabi fish, old-fashioned roast chicken sandwich with pesto sauce and a teriyaki chicken wrap with grilled pineapple. But also crispy squid, a Thai beef salad or an Asian salad with chicken-sesame, among other delights.
Finally comes the dessert time. Everyone has his vices: chocolate, coffee, ice cream, whipped cream, red velvet … when it's good, everything goes! It comes out of this cafe on a small cloud, the light heart and belly well filled, with a note sweeter than salty. We'll be back soon, sure! In addition, they announced on Facebook that they will schedule acoustic sessions from the beginning of this year.
Îlot Café
An amazing little spot in the Caudan Waterfront, decorated in wood, with a certain charm, where it is good to sit for lunch or to drink away from the bustle of the capital. It is very hard not to miss this cozy place.

Îlot Café has cultivated its difference in the mall and does not go unnoticed. Set with shop window displays, its all-wood atmosphere catches the eye with its entrance patio where some do not hesitate to sit down to carve a little bib!
Warm concept that is found inside the coffee, which also cultivates its little corner of greenery and fresh products in crates or pallets recycled for the occasion!
To sip a drink or come to lunch, the choice exists! A large coffee table with a sofa for a casual mood, a more classic set up along a wall "pallet" as a bar or under a parasol. In the background, a little jazzy music well chosen … The Îlot Café does nothing like everyone else and especially does it well with always a touch of greenery!